The Prince of Disgrace Approves an Embassy of Disgrace
The Prince of Disgrace Approves an Embassy of Disgrace
Bin Rashid Opens an Embassy in Israel
Two days ago, the UAE Cabinet held its first meeting for this year where a number of ministerial decisions were ratified, including the unanimously approval on opening the UAE embassy in Tel Aviv.

The opening of an embassy for the UAE in Israel is a traditional and expected step, however the act is painful for the free Arab who are against the normalization agreements as it sidelines the Palestinian cause and strips the Palestinians of their rights.

Ironically Mohammed bin Rashid Al Maktoum , Prime Minister, endorsed the opening of his country's embassy in Tel Aviv, thus adding a new act of shame to his shameful history.
This shameful act is expected from someone like bin Rashid, the one who tortured his own daughters and detained them, assaulted his family and forced his wife to escape; the person who turned his palaces into prisons and his gardens into hell.
Bin Rashid seeks a way out of his scandals that cover the headlines of newspapers, so he thought of allying with the Zionists and embracing them, But bin Rashid forgets that he is allying with those who killed children and turned women to widows.
In return, the Israeli Ministry of Foreign Affairs issued in a statement published on the same day stating that an Israeli embassy had been opened in Abu Dhabi, while the Israeli Broadcasting Corporation announced that the embassy would start working from temporary offices until a permanent headquarters is ready.
The Israeli government also announced its intention to open its consulate in Dubai.
The decision of Israel came after the UAE announced opening its embassy in Israel, as the UAE authorities rush to please Israel via its disgraceful initiatives like this one.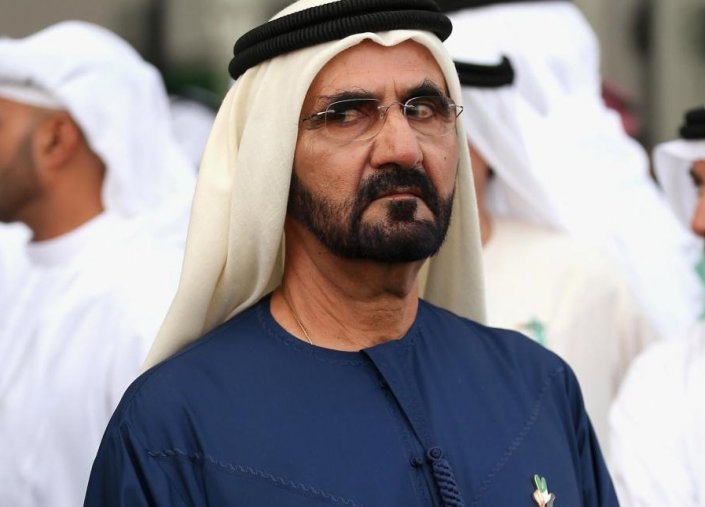 It is worth noting that the Israeli diplomat, Eitan Naih, who was appointed to run the embassies business until permanent residence was established, was expelled from Ankara by order of Turkish President Recep Tayyip Erdogan when relations between Turkey and Tel Aviv worsened after the Israeli aggression on Gaza in 2014.
Turkey expelled him in reaction to the aggression on Gaza, and the UAE welcomed him!!
We are currently expecting to see the flag of the occupying state flying in the sky of the Arabian Peninsula; the land where the grandparents carried the banner of Islam and Arabism.
Today their grandchildren removed the banner of Arabism and raised the flag of the occupying entity over the bodies of their brothers. What a shame!
Certainly the person who brought shame to us deserves to be called the worst individual of the year.
Vote for bin Rashid