To Spread Tolerance and Coexistence: Al-Burhan Justifies Normalization During "Israel Summit"
Recently Abdel Fattah Al-Burhan, head of the Sudanese Sovereignty Council, which was formed after the ouster of Omar al-Bashir, participated in a video conference under the title "Israel Summit", organized by Israeli students and Sudanese students for the first time.
Al-Burhan tried to justify the crime of normalization and wipe out the humiliation caused to the government of Sudan due to normalization with the Israeli occupation state, saying "The main reason behind Sudan signing the comprehensive normalization agreement with Israel is the conviction of our government of the importance of spreading the values of tolerance and coexistence among different peoples of different religions and ethnicities".


He indicated that the government of Sudan has embarked on the signing of the normalization agreement out of a sincere endeavor to affirm and establish the values of peace, tolerance, peaceful coexistence, mutual respect, and to maximize freedom of belief and religion, and the philosophy of accepting the other, regardless of their affiliation, religion or race.
Al-Burhan stressed the importance of the role of youth in building states, especially the countries that are trying to rise from their repression, such as Sudan, which is foreseeing a new era of freedom, peace and justice; a future that only the youths and students will build.
However, Al-Burhan seemed to forget, or perhaps he deliberately overlooked, the fact that Israel that he praises is nothing but an occupying state of pure Arab land, pure religious sanctities, and a pure human people. This occupying state was not established on freedom nor tolerance, coexistence, or respect for others. Rather, it was based on murder, slaughter, rape, demolition of homes, and displacement of the people.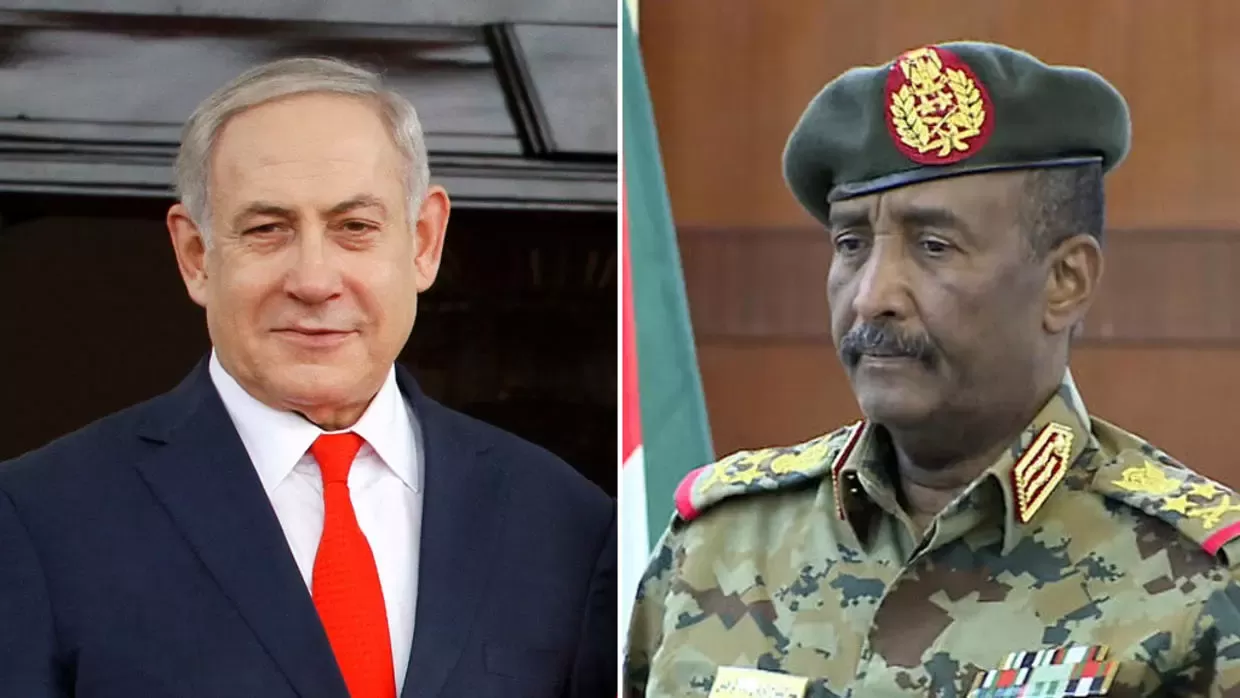 Al-Burhan also forgot that the Palestinian resistance and the entire Palestinian people are people who deserve life, tolerance, coexistence and living in their homes, which were bulldozed by the Israeli occupation and inhibited after them by Jews who were brought by the occupation state from Scattered parts of the world, where the most heinous crimes were committed at their hands in Jerusalem, and where the Aqsa mosque was desecrated under the nose of Sudan and the whole world while being protected by the armed occupation soldiers.
Moreover, the Israeli curriculum feeds the children on killing, intimidation and extermination for all Arabs and Muslims, which was evident when Israeli children were writing on the missiles before they were launched on Gaza. Israel is placing hatred that the heart of a small child cannot tolerate.
If Al-Burhan really believes in peace, coexistence, freedoms, and accepting the other, then do these values apply to Israel alone or to the Sudanese people and the Palestinian people as well?
If the words of the proof and his conviction in peace, coexistence, freedom, and acceptance of the other were sincere, and firm conviction, then the question that arises is, are these values for Israel alone or for the people of Sudan and the occupied people of Palestine?

READ MORE: An Intelligence Visit To Sudan Announced By Israel Hid By Khartoum